Planning our route through Tasmania, we consulted TripAdvisor, as one does, and stumbled on this comment about Gallery 81:
Needless to say, we decided we must visit this gallery, if only to see how offended we might be by this religious fanatic. We made  a note of the address: 81 High Street, Campbell Town, Tasmania. It proved to be on our route between Launceston and Swansea – perfect!
On the appointed day, we parked right outside this very modern building and went in, excited …
Gallery 81 – the space
Gallery 81 is very new; it was opened on 29 July 2016. The gallery space is stunning: a long narrow room with the most amazing view through floor-to-ceiling windows. It's described on their website as a boutique cafe and wine bar – as well as an art gallery.
As you walk in, there's a bar area to your left serving teas and coffees, and much else besides. Tables are arranged the full length of the room, providing a quiet space to enjoy both the artwork and the refreshments, and the view.
Luke and his wife Keryn are keen to promote Tasmanian products, so they have on offer such delights as ClearTas Sparkling Water, the Art of Tea and TasCaffe coffee. We were driving so we did not sample the Espresso 81 Martini!
The book: Gallery 81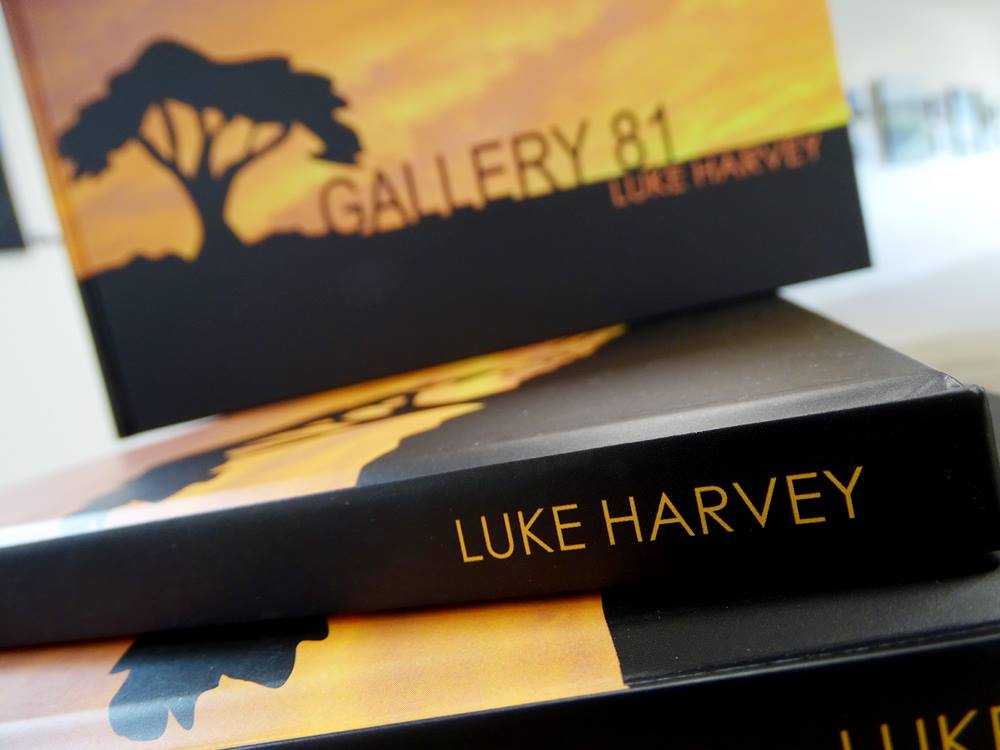 Luke's works are displayed not only on the walls but also within a book, a copy of which we purchased.
The pages of this book present 81 paintings and 81 reflections, which are Luke's response to living the Tao.
Luke explained to us that, in 2009, he was in his local library and the title of a book piqued his interest: Change Your Thoughts, Change Your Life, Live the Wisdom of the Tao by Wayne Dyer. Reading it resulted in Luke feeling compelled to paint his own interpretations of the 81 verses.
During the painting process, Luke was then also compelled to write his own words for each verse. The net result is the 81 paintings displayed on the right-hand wall of Gallery 81, and within the accompanying book.
Tao Te Ching, Verse 64: The journey of a thousand miles commenced with a single step
This is just one of the 81 paintings as hung in the gallery.

We were particularly struck by his Luke's tagline: Ask, Listen, Paint, Speak Words on Fire.
Luke Harvey, religious fanatic!
So, we met Luke Harvey, the 'religious fanatic' and found him to be a charming man.
We got into a discussion and discovered Luke is a retired teacher, passionate about living the Tao.
He writes in the foreword to his book that he believes we each have a single life path, and that this path has many intersections where we meet the people in our life. We travel with some for a while, some for fleeting moments of time. All contribute though to the framework that is your life.
For us, we shared maybe an hour with Luke, and his wife Keryn, and were enriched by the experience.
They have travelled far and wide, and his 81 paintings – and his book – are a testimony to his life path.
To learn more about Luke, and his work, visit his website.
This post is one of my POSTCARD series, sharing all things ART with you when I go travelling.